Tripawds is a user-supported community. Thank you for your support!
Mi big girl is gone and I still feel her and hear her… but most of all, I miss her.
Yesterday I went to get some food for Castaño at the vet's and this little thing came dashing from under a shelf to say hello: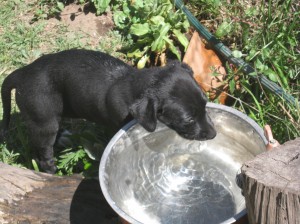 I thought he had gotten himself a pet and congratulated him on how cute the girlie was.
Well… short story: He had found her in a cardboard box at a corner two days earlier and took her in. He was trying to find her a home.
We left toghether and an hour later she got her name, Olympia, and a new home, where she hopefully will be very happy.
One thing is for sure: Castaño and Julia are absolutely delighted… and my husband and I laughed more in the last 24 hs than in the whole of the last one and a half months.
Hori would have loved her! She loved little and/or big pestering doggies and would play for hours and hours… she was the most patient soul.
I like to think that Horacia guided this girlie to us… or maybe us to this sweet pup. But in any case I'm sure she would have approved.
Olympia's first day with us was heartwrenching, because I couldn't stop wishing Hori was there to play and see our new family member… but it was also healing in a way only new needy life can be healing: Olympia's eyes kept saying "thank you".
Julia's laughter and Castaño's playful barking are a balm on my wounded heart and will help to fill, at least partially, the emptiness Hori left.